Join the more than 330 advocacy and business organizations to support the 30 Million Solar Homes vision. We encourage additional organizations and elected officials to sign on and join the campaign, and we'll be reaching out to all signers with more information and how to get involved.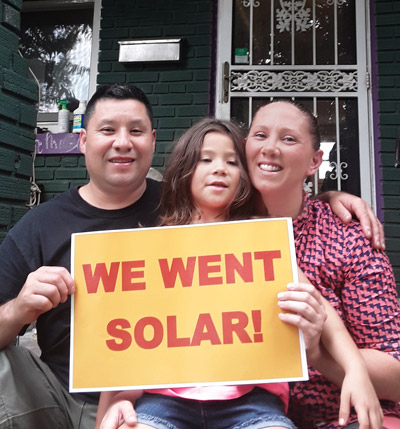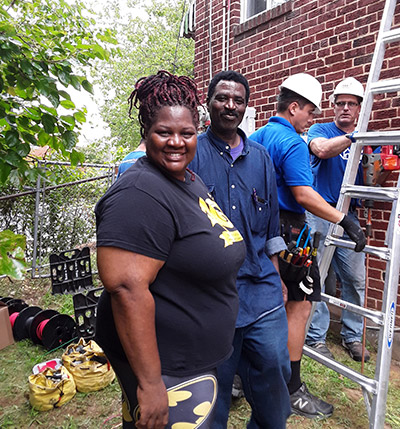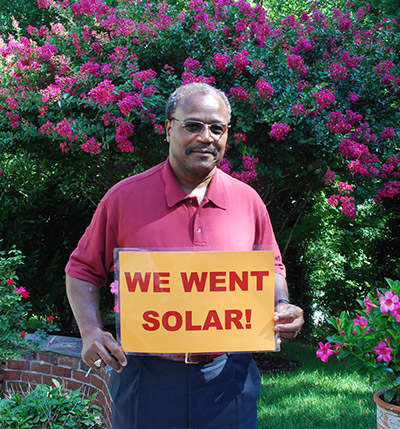 Click to view our partners
American Bird Conservancy
American Council for an Energy-Efficient Economy
American Solar Energy Society
Anthropocene Alliance
CatholicNetworkUS
Center for Biological Diversity
Center for Sustainable Energy (CSE)
Climate Code Blue
Climate Justice Alliance
Coalition for Community Solar Access
Coalition on the Environment and Jewish Life
Corazón Latino
Dayenu: A Jewish Call to Climate Action
Defenders of Wildlife
Dream Corps Green For All
Elevate Energy
Evangelical Environmental Network
Footprint Project
Generation180
GRID Alternatives
Initiative for Energy Justice
Institute for Agriculture and Trade Policy
Institute for Local Self-Reliance
Interfaith Power & Light
Jewish Climate Action Network
League of Conservation Voters
LibertyHomes
Local Solar for All
National Audubon Society
Natural Resources Defense Council
Public Citizen
RE-volv
Reconstructionist Rabbinical Association
Sierra Club
Solar United Neighbors
Sunrise Movement
The Democracy Collaborative
The National Association Blacks In Solar
The People's Solar Energy Fund
The Shalom Center
Transition US
Union of Concerned Scientists
Vote Solar
WE ACT for Environmental Justice
350 Colorado
350 Dallas
350 Petaluma
Acterra: Action for a Healthy Planet
AERO
All Together Now Pennsylvania
Appalachian Voices
Arizona Interfaith Power & Light
Arizona Public Health Association
Be The Change – Colorado
Berkshire Environmental Action Team
Blue Rock Station
Bridging The Gap In Virginia
Broome Tioga Green Party
Bucks County Audubon society
Bucks County Concerned Citizens Against the Pipelines
Call to Action Colorado
Canton For a Sustainable Equitable Future
Carmel Green Initiative
CASE
Centennial Parkside, CDC
Center for Coalfield Justice
Chesapeake Climate Action Network
Chesapeake Solar & Storage Association
Chispa Arizona, LCV
Christians For The Mountains
Christopher Mark McNeese Estate corporation
Citizens Action Coalition of IN
Citizens Utility Board of Ohio
Citizens' Climate Lobby – Houston
Clean Energy Action
Cleveland Owns
Climate + Energy Project
Climate Action Lower Merion (PA)
Climate Action Team, UU Congregation of Duluth
Coalfield Development Corp.
Collective Power
Colorado Renewable Energy Society
Community Action Works Campaigns
Community Power
Conservation Colorado
Conservative Alliance for Solar Energy
Cook Inletkeeper
Coon Rapids Regenerative Energy Task Force
Crawford Co. Coalition on Housing Needs, Inc.
CT League of Conservation Voters
CURE
DC Environmental Network
Efficiency First California
Energy Efficient West Virginia
Energy Matters Community Coalition, Inc.
Energy Smart Colorado
Environmental Justice Center of Chestnut Hill United Church
Estes Valley Clean Energy Coalition
Evergreen Conservancy
Fairbanks Climate Action Coalition
Faith and Climate Action Montana
Front and Centered
George Wiley Center
Green Bellevue
Green Energy Ohio
Green Neighbor Challenge
Green Sanctuary, Climate Justice Group of the Unitarian Universalist Church of Reading
Greene Together
GreenLight Solutions Foundation
Hastings Environmental Protectors
Honor the Earth
Hoosier Environmental Council
Hoosier Interfaith Power & Light
Kentuckians For The Commonwealth
Las Vegas Electric Vehicle Association
Local Clean Energy Alliance
Magnolia Heights Neighborhood Association
Maine Audubon
Maine Conservation Voters
Marcellus Outreach Butler
Mass Audubon
Michigan League of Conservation Voters
Mid-Ohio Valley Climate Action
Midwest Renewable Energy Association
Minneapolis Climate Action
MN Division Izaak Walton League of America
Mn Renewable Now
Mobilify Southwestern Pennsylvania
Monroe County Power Co-op
Montgomery Energy Connection
Morongo Basin Conservation Association
Mountain Association (formerly MACED)
Mountain Watershed Association
NAACP CO-MT-WY State Conference
NC League of Conservation Voters
Network for a Sustainable Tomorrow
New Energy Economy
No Sharon Gas Pipeline | Clean Energy Now
Norfolk Solar Qualified Opportunity Zone Fund
North Range Concerned Citizens
North Texas Renewable Energy Group, Inc.
Northern Alaska Environmental Center
Northern Colorado Community Rights Network
Ohio Clinicians for Climate Action
Ohio Environmental Council
Ohio Sustainable Business Council
Order of the Sacred Earth
OVEC-Ohio Valley Environmental Coalition
Partnership for Southern Equity
Physicians for Social Responsibility: Arizona
Physicians for Social Responsibility: Colorado
Plano Solar Advocates
Powder River Basin Resource Council
Power a Clean Future Ohio
RapidShift Network
Region Five Development Commission
Rehoboth Bible Ministries
Resilient Cities & Communities
Ritchie County Economic Development Authority
ROAT Foundation, Inc.
San Francisco Bay Physicians for Social Responsibility
San Luis Valley Ecosystem Council
School of Public Policy and Urban Affairs, Northeastern University
Seeds for the Sol
Simply Living
Sisters of Charity of Nazareth Congregational Leadership
Sisters of Charity of Nazareth Western Province Leadership
Solar Rights Alliance
Solarize Indiana Inc
Soulardarity
South Union CDC
Southeast Wisconsin Solar Group Buy
Southern Alliance for Clean Energy
Southern Indiana Renewable Energy Network
St. Paul 350
Sunrise Dallas
Sunrise Fairview High School
Sunrise Movement- Mankato
Sunrise St. Louis
Sustainable Living Association
Sustainable Pittsburgh
Sustainable Tucson
Sustainable Wyandanch project of Starflower Experiences
Texas Solar Energy Society
The Alaska Center
The CLEO Institute
The Foundation for Business Equity
To Nizhoni Ani
Turtle Island Restoration Network
UCC Penn Central Conference Creation Justice Ministry Teamtry
Unite North Metro Denver
UPROSE
Vermont Conservation Voters
Vote Climate
West Virginia Climate Alliance
West Virginia Electric Auto Association
West Virginia Environmental Council
Western Organization of Resource Councils
Wildewood Springs Condominum Association
Wisconsin Green Muslims
WV Citizen Action
1st Step Solar
21st Century Solutions
Above board construction roofing and solar
AC Solar, Inc
Alternative Energy Southeast, Inc.
American Owned Energy
Atmos Financial, PBC
Balancing Element Inc.
Barkley global
Beeson Solar Electric
BeniSol LLC
Benson Electric
Better Earth
Better Together Solar
Better Tomorrow Solar
Blacklion Energy Services
Blue Planet Energy Systems
Bluehub Energy
Businesses for a Livable Climate
California Solar & Storage Association
Clean Energy Maryland llc
Clearloop
Co-op Power, Inc.
Colorado Businesses for a Livable Climate
Community Energy Corporation
Community Purchasing Alliance Cooperative
Cooperative Energy Futures
Corona Photovoltaics LLC
Design AVEnues LLC
Diversity Intelligence in Climate Action
Dividend Finance Inc.
DNV
Duck Soup E-Commerce
Ecolibrium3
EE Solar
Energy Solutions By Solar LLC
EnergySage
Ennuity Holdings
Facillitee, Inc.
Freeing Energy
Galusha Solar
Global Synergy Powers
Green Hybrid Energy Solutions
GreenRoots, Inc
Greenvest
Greenwatt
Gridwerks Consulting Inc.
Grouphug Solar
HPI/DRD
Humankind Homes
Innovative Solar, Inc
Ion Solar
Irvington Wellness Center
JBJ World Industries LLC
JSW Consulting
Kosmos Solar
LaneyLabs
Law Office of Cary Grace
LFR Ohio Properties LLC
Maryland Solar Solutions, Inc
Mosaic
MoundTown Music & Computers, LLC
Neighborhood Sun
NineDot Energy
Norfolk Solar LLC
NPC Solar
OC POWER SOLAR
Olina Farms, LLC
Ovanova
People Power Solar Cooperative
Perlmutter Associates
PosiGen Solar
Proactive Energy Services
Rábago Energy LLC
Raise Green, Inc.
Reconnect Clean Energy
Resonant Energy
ReVision Energy
Salem Financial, Inc.
SHINE
Solar Energy Industries Association
Solar Farm, LLC
Solar Is Freedom
Solar Power New England
Solareum Home & Renewables
SolarFuze Inc.
SolarNara
SolarPod
SolarTec Florida
Solstice Initiative, Inc.
Spectrum Solar Power
Stevens Electric
Sun Plans
Sunfinity Renewable Energy
Sunnova
SunPower
Sunrun
Sunshine Renewable Solutions
Sunwealth
Superior Energy Group
Sustainable Capital Advisors
Tangerine Power
The Dragonfly-e Inc.
The Stella Group, Ltd.
Transduction Technologies
Travis the Solar Expert
VannsFamilyFarms
Veloce Energy
Vinyasun
Watkins Design Works
Whole Sun Designs Inc.
Wind & Solar Denver
Wolfe Energy LLC
XLNS Energy Consulting LLC
YellowLite Inc
Zoomwings
30 Million Solar Homes is a crucial part of our nation's economic plan to recover from the Covid-19 pandemic.
Dear Members of Congress,
We are writing to seek your support for a bold initiative to bring the benefits of clean solar power to millions of Americans by embracing a goal of 30 million homes powered by solar in five years. The undersigned organizations, businesses, and local officials, representing millions of Americans, urge you to incorporate the 30 Million Solar Homes Recovery Plan as a key element of any economic recovery and infrastructure bills in the coming year. 
In 2021, our country must take on several major challenges: 
Recover from the pandemic and resulting serious economic downturn
Take meaningful actions to remediate the legacy of environmental and racial injustice
Rapidly transition toward a cleaner, more equitable distributed energy system
Help reduce pollution in our communities, especially those which have experienced the most pollution
Distributed solar energy is a recovery strategy that can address all of these interrelated issues. 
Our goal is to provide solar for 30 million homes (on rooftops and through local community solar projects) over the next five years. Further, we want to ensure that the benefits accrue to those who need them most.
30 million solar homes is equivalent to providing solar access to 1 in 4 American households. This would create at least three million good-paying, local jobs across the country. It would lower energy bills by at least $20 billion a year. This will help families with the highest energy burdens and bring wealth to low- and middle-income communities and communities of color. Putting solar on Americans' rooftops puts money in their pockets. By focusing on the lowest income families first –– those who will turn around and spend it quickly –– the program puts more money back into the economy faster. 
30 million solar homes would also offset polluting fossil energy resources. It would increase energy-independence and security. And it addresses climate change by providing 5 percent of U.S. electricity needs, while reducing air and carbon pollution by 1.5 percent of total annual U.S. emissions. 
Best of all, we can meet the ambitious 30 Million Solar Homes' goal by expanding and modifying existing federal programs and policies. 
This includes: 
Extending the current solar tax credits and offering them as cash grants; 
Expanding "Pay As You Save" on-bill solar and energy efficiency financing; 
Providing loan guarantees, block-grants to state and local governments, and subsidized financing for solar;
Coordinating with low-income energy assistance & weatherization programs to further reduce and stabilize energy bills by deploying rooftop and community solar to serve low-income households; 
Supporting equitable and locally-owned community solar projects for people who rent or whose homes are unsuitable for rooftop solar; 
Diversifying the solar industry by supporting the creation of businesses owned by people of color; and 
Boosting solar workforce development programs that prioritize low-income and historically underemployed Americans. 
To review the full policy details, click here.
The 30 Million Solar Homes stimulus package could deploy quickly in the heart of affected communities, and it would provide resilience to future economic and climate threats across the country.  We believe that Congress should seize on the opportunities provided by solar rooftops and community solar.
Sincerely,
Anya Schoolman, Executive Director, Solar United Neighbors
John Farrell, Co-Director & Director of Energy Democracy Institute, Institute for Local Self-Reliance
Subin DeVar, Director, Initiative for Energy Justice
Jason Edens, Veteran Low-Income Solar Champion
We will also follow up with opportunities to learn more and continue to support this effort.